GENERATIONS
Excerpt from
Letters to Sam: A Grandfather's Lessons on
Love, Loss, and the Gifts of Life
"Make the Container Bigger"
by Dr. Daniel Gottlieb
In 2006, Dr. Daniel Gottlieb, Philadelphia psychotherapist, columnist, radio personality, and author, published Letters to Sam: A Grandfather's Lessons of Love, Loss, and the Gifts of Life. Dr. Gottlieb and Sterling Publishing have graciously granted Empty Nest permission to reprint a chapter from the book. In "Make the Container Bigger," Dr. Dan shares how facing adversity builds resilience—something we all need. And, expanding our capabilities and experiences ("making the container bigger") can also help us build resilience. Gottlieb (a quadriplegic due to a freak accident years ago) wrote the book for his autistic grandson. It was a beautiful gesture, passing wisdom from one generation to the next—but the lessons he imparts benefit readers of all ages

Reprinted with permission of Sterling Publishing Co., Inc., from LETTERS TO SAM by Daniel Gottlieb. Copyright © 2006 by Daniel Gottlieb.
Dear Sam,
Sometimes when I'm watching you, I see worry cross your face. That expression tells me that things aren't going quite the way you'd like them to, and that your world is out of order. Sometimes I feel like I would do almost anything to make your pain go away, but that wouldn't be a very good idea. One thing all children need is resilience, and you need it more than most. Without resilience, the slightest adversity in life can feel enormous and debilitating. And the best way to build resilience in adulthood is by facing adversity and learning from it in childhood. The important thing is not avoiding problems; it's learning how to cope with them.
Most people want their problems to go away quickly because problems make them feel uncomfortable or sad. It is in the nature of pain—physical or emotional—to demand our attention. It's as though the pain is telling us there is something wrong that needs to be repaired. But that attention is like sticking your tongue in a cavity or becoming preoccupied with an emotional problem. Sometimes the attention itself just makes the pain worse. Your field of vision narrows, and you begin to think you and your problem are bigger and more important than they really are.
Although some acute problems can be fixed, like the toothache I just mentioned, or a broken bone, many problems we may just have to find a way to live with. But how can we live with a problem that might cause us physical or emotional pain? One way is to look at our problems through a wider lens.
*
There's a story from Zen tradition about a young student who is suffering so terribly, he can't get a moment's rest. So he goes to his master to ask for help.
The teacher advises him to put a tablespoon of coarse salt in a glass of water, stir it around, and drink it down. The student does as he's told. Of course the water tastes terribly salty.
"Now," says the teacher, indicating a spring that's bubbling from the ground, "I want you to pour a tablespoon of salt into the spring water." The student does. When the master instructs him to drink the spring water, the student finds that the taste of salt is imperceptible.
"The problem is not the salt," says the master. "The problem is the container. You have to make the container bigger."
*
Some time ago, I treated a woman who suffered from depression. I had sent her to a psychiatrist who prescribed medication, but when she started taking it, she suffered badly from the side effects and had to stop. He tried again with a different kind of medication, and again she had terrible side effects.
She was quite motivated to deal with this depression, so—frustrating though it was—she kept trying different medications with the same results. In her sessions with me, she began talking about leaving her job. In a way, I supported this decision, because her job was immensely stressful and making her depression worse. However, leaving a job can be dangerous for someone who's already depressed. It can lead to further isolation and worsen the depression. I felt I was in a difficult position about whether to support her leaving. Either way felt wrong.
Finally, I told her that I would agree to her leaving the job if, when she did, she would begin to devote twenty hours a week to some kind of community service. But her community service had to be something more than addressing envelopes or making phone calls on behalf of a social cause. It had to be something that brought her in direct contact with living beings who would benefit from her help.
She readily agreed to the deal. She volunteered to spend ten hours a week as a part-time librarian in an elementary school, reading to children. For another ten hours each week, she prepared and delivered meals to people with AIDS. Very soon, she came back and told me she was meeting nice people, making new friends. (That's important for all of us, but especially for people with depression.) And the friends she was making were good people—the kind of people who cared about others. This made these new friendships even more valuable.
More weeks passed, and she reported that she was beginning to care deeply about those she was helping. For the first time in years, she was feeling good about herself and her life.
*
After two or three months, I could see she was still depressed, though somewhat less so. So I referred her back to her psychiatrist for medication. And this time she was able to tolerate it better. Her body chemistry had actually changed!
In the years since I "made the deal" with that woman, I have treated many patients who seem terribly self-absorbed and isolated with their problems. For the sake of their mental health, I often give them advice that takes them far away from the office where we're sitting. Typically, I may ask them to devote two hours a week to help a person or animal. They might volunteer at an animal shelter, day-care center, or old-age home. The choice is theirs. But usually when people accept this deal, and follow through, they tell me the experience has changed their lives.
Making the container bigger can change the world from the inside out. Very often, people who step outside of themselves and begin helping others wind up getting better more quickly. They become part of the larger world. Their own problems no longer fill it up.
Your problems will never vanish, Sam. Neither you nor I can "wish away" the distress you sometimes feel. And you cannot turn your back on your own suffering. But if you step out into the world, I think you will find that the container is much, much bigger than you had imagined.
Love,
Pop
---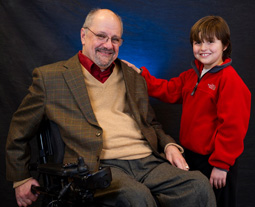 Dr. Dan Gottlieb's work last appeared in the spring 2011 issue of Empty Nest. His most recently published book, The Wisdom of Sam (Hay House, 2010), was reviewed in the summer 2010 issue.