STYLE
Hat Lost and Found
by George Kell
Hat Hunt
This is the story of a lost hat that led to an interesting afternoon.
How I lost my hat in Delhi, India, is an exciting story, but I think you may be more interested in how I replaced it.
As someone who has worn many hats, I was not to go bare headed for long. The sun in Delhi shines brightly 340 days a year and didn't let me forget one purpose of a hat. The bald spot that shines brightly in snapshots reminded me of another purpose.
I studied hats in ads and PR shots. Sean's straw number proved hard to find in Delhi.
Woody has the right idea but comes off a bit elderly.
Nothing seemed to fit.
What I had in mind was an uncommon style that would convey a dashing image—while allaying sunstroke and constant squinting. Not a topper one might wear to the office or a funeral, but a sturdy friend one could take on walks, do chores under, or hang out with. (Note to milliner: You've gone too far when you mistake your wife for a hat.)
Cricket: Germ of an Idea
During the tea break of a televised Test Match (India vs. UK), I spotted an ideal cover. The cotton is soft and absorbent. The shape is malleable and floppy. The job of a cricket hat ensures that it must be firmly made. Wide brim, for the players go out in the midday sun. Sporty, for sure. Maybe too sporty. But my hat needn't be cricket white.
I found a half-dozen Delhi shops that advertise bats and other cricket gear, but all said they didn't supply floppy cricket hats. So I went to Google, digging for a manufacturer who might point me to a retailer.
Home Run on First Call
When I said I wanted a cricket hat, I expected to hear "How many?" Instead, the manufacturer's voice said, "What size?" I said I wasn't sure. The voice (I later learned it was the owner of Cap India) said, "If we don't have your size, we'll make a hat for you." How you gonna turn that down?
I should have been prepared. I had a suit made in Delhi—fine workmanship and superb fabric for less than ready-made at WalMart. My wife can tell you more. She chose colors, weaves, and weights from hundreds of bolts neatly standing along the wall of the same shop.
When I asked for directions, Papa (Rahul) Jain said, "When you get to Gandhi Nagar, give the phone to your driver." A few days later, I did just that as a first step in finding a hat.
Gandhi Nagar is a compact neighborhood of 100,000 people directly across the Yamuna River from New Delhi. Brooklyn or Queens might be the proper analogy. Gandhi Nagar is also the garment district of Delhi.
As we crossed the river, I dialed and gave the cell phone to my driver. He talked and drove for about 10 minutes, then hung up and parked. He said they were sending a motorbike. Nothing else would have worked, except walking a kilometer or so deep into the chowk (market). As I clung to the shoulders of a stranger, we zoomed along alleys too tight for any car, dodging carts stacked with jeans, kurtas, shirts, and jackets on the way to folding, labeling, or buttons. Through doorways, I glimpsed lines of men at foot-powered sewing machines.
We stopped in the middle of a long block before a narrow doorway and a two-word sign: Cap India. Three steps inside, I turned into the office (a 6- by 10-foot space jammed with three modest desks, one with a computer), where I met Papa's sons, Mahesh and Nitin—and a barrage of questions.
We talked hats. There was no shortage of examples: On a table next to my chair was a tall pile of cricket hats, baseball caps, berets, billed sailor caps, and many other shapes and associations.
What exactly did I want? I stayed with the cricket model.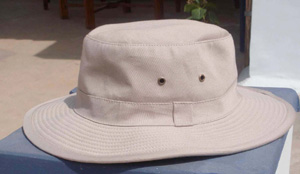 In the pile of samples, I found a tan twill baseball cap. Did they have a tan twill cricket hat in stock? Answer: Cap India keeps no stock. Everything is made to order. However, they would make me any design I wanted, if I could stay for an hour.
Among the samples I tried for size, I admired a green topi with a lesser brim. Could I have that one also? Mahesh said he would make it in my size.
When I asked how much my custom hats would cost, Mahesh said "koi batt nahi" (forget about it). They were a gift. I objected. They insisted. It finally dawned on me that I was a guest, not a customer. A stranger to be honored, not hustled.
Over Chai, I Learn the Hat Business
Cap India exports 60 percent of its hats. ("Exporter" is a much sought-after title in India.) I saw hats headed for the United States, the UK, Germany, France, Australia, and elsewhere. In 2009, Cap India made 350,000 hats. The company's 100 workers, all men, apparently, ship 1,000 hats a day.
Cap India hats are sold by export agents. Each plies a specialty—one targets cricket teams, another handles sporting goods outfits, and, most important, several agents work the novelty market—conventions, promotions, and events where one may receive a hat as part of a goodie bag.
Papa and sons told me they will expand to a million per year. The worldwide recession hasn't affected their business. They'll need financing for equipment, and their 20-year track record should help them with that. They say there's no problem finding reliable workers who can cut and sew in Gandhi Nagar.
But they worry about the government—both Delhi bureaucrats and the national parties. Although regulatory oversight is the last thing you think of in the lanes of Gandhi Nagar, corruption has long been rampant. Cap India could encounter road blocks created by competitors.
For now, though, the challenge is getting their orders filled.
Our talk was interrupted by men from the workrooms with a partly finished hat in hand. Their questions were often about maintaining the quality of the product. Mahesh goes to the workroom to solve those problems. In other cases, a design detail is checked on the computer by Nitin, who is also a chartered accountant. At 28 years old, he appears to be the business brain of Cap India.
Papa Rahul is the glad hand, the storyteller and culture-keeper. He convinced me that Cap India will always be busy in a world where people are always losing their hats.
---
George Kell is a retired advertising executive. In 2009, he accompanied his wife, Carol, on a 10-month business trip to Delhi, India, where he searched for creative ways to fill his time. George lives in Baltimore. He has 3 children and 3 grandchildren.