COUPLES
A Nuts-and-Bolts Kind of Valentine's Day
by Robin Bonner
Prelude
Climbing into the car, Gary handed me the pink-paper-wrapped pot. In an attempt to steal him away from his obsession for an hour, I was picking him up for dinner at a local burger joint. I'd driven 45 minutes to make sure he ate a meal comprising
something other than party mix and animal crackers.
"They're calla lilies," he said, of the pot. "Wow, nice!" I exclaimed sincerely, agreeing, and impressed that with Valentine's Day still two days off, Gary obviously had already been thinking about it. And, I had a soft spot for calla lilies, especially pink ones. These looked just like the ones in our daughter Amie's wedding bouquet.
"Got them in Lowe's," he explained. That made sense; otherwise, he probably wouldn't be in possession of them. You see, at this time of year, Gary spends a lot of time in Lowe's. And Home Depot. And the local hardware store. The rest of his time he spends in the robotics workshop at Mount St. Joseph's Academy, our daughters' alma mater. In fact, for the last 12 years of our 30-year marriage, our Valentine's Days have been surrounded by FIRST Robotics, as Gary is the team's lead engineering mentor. So, let's just say that on February 14th, just a week shy of the end of "build season," when the team is in "crunch mode" to complete the robot (including programming) and get the drivers some practice time, the last thing on Gary's mind is Valentine's Day.
It might be the last thing on his mind, but it's not the least of his worries. Last year, younger daughter Sarah and I had lunch together on Valentine's Day. It was just the way things worked out. She was in Philadelphia visiting her boyfriend, who had to work that afternoon. And, we all know where Gary was. So, Sarah and I met up at Market East Station, each of us sporting an armful of flowers—I for her, and she for me. What fun! We gently nurtured our bouquets as we traipsed to the Copabanana Cabana, where we enjoyed a lovely lunch and libations.
As it turns out, those were the only flowers either of us received that day, and we were not at all shy about letting our guys know about it. As for me, I was used to competing with the "other woman"—of the nuts and bolts variety—but I absolutely demanded my husband's attention on the year's special day for lovers (even if only at dinnertime). I knew that if I didn't require it, I wouldn't get it. Any excuse is a good one, and Valentine's Day is usually the best one I can think of to keep Gary home for an evening during robotics season.
Strategizing
As this year's Big Day approached, I thought about how we'd spend the evening together.
"What do you want to do for Valentine's Day this year, honey?" I began.
"Huh? Hmmm…" Gary, in the shower, pondered between calculations. Was that part I ordered calibrated in millimeters or inches? Why were the damned stock numbers so similar? That could explain why the outfit shipped the wrong part. With a six-week build season, there's not a lot of room for error, and this year was particularly riddled with problems. Even from my vantage point at the bathroom sink, I knew what was going on inside his head.
"You know, we can skip the Valentine's Day celebration this year."
"Huh?"
"I mean, if you need to be at the Mount Monday night, that's okay; I understand."
"No, I'll be home." Gary said emphatically.
"Okay." I raised one eyebrow and looked at him. I was surprised that he'd turn down my offer to chuck V-Day out the window,
as it was one I'd never made before (and wasn't likely to make again). Even he probably realized that he needed a break. "What do you want to do, then?"
Not only was Gary steadfast, but he actually had ideas. "Go for a full-moon hike up Spring Mountain and then get some take-out?"
"Huh? Hmmm…." I couldn't decide if that sounded romantic or not. A winter hike in the mostly dark appealed to my sense of adventure. Of course, after being holed up alone in my home office all day and then pretty much hanging out there all evening as well, for days on end, even getting outside in the daylight sounded exciting. Especially with my husband, who at this point was never, ever home when I was awake. Living with Gary during robotics season looks a lot like The Sixth Sense meets Amadeus. A married couple living together but never seeing each other, like ships in the night; a half-mad, single-minded man whose health deteriorates as he struggles to meet an impossible deadline, while his loving wife lends support. Take your pick. And, I mean that. Mostly, I try not to think about it.
I mulled things over. In years' past, we've enjoyed dinner at various cute little restaurants. (The Inn on Blueberry Hill near Doylestown and the Plough and the Stars in Philadelphia come to mind.) And, there are so many cute little restaurants out there. Once seated at our cute little table, all dressed up, wine in hand, I do my best to hold Gary's attention. He, in turn, does his best to look at me and nod, all the while wiring the robot in his head (and he thinks I don't know this?). Invariably, he fields more than one cell phone call from the Firebird team members, panic-stricken teenage girls desperate for guidance from "Mr. B," who's off site but not out of mind. With me, though, he's on site, with his mind somewhere else.
So, why not just hike and skip the la-di-da dinner? Gary suggested it, and God knows we both need some exercise. Why stress ourselves out with a lot of formality? (Realize that I really do love said formality.) We'll save it for sometime when Gary can give it his full attention. After our hike, though, rather than do take-out, we would enjoy a simple dinner at home. A dinner that we would cook ourselves and I would clean up the next day. Jumbo shrimp cocktail. Filet mignon for the grill. Asparagus to stir-fry in olive oil. Baked potatoes. Mushrooms. A nice bottle of wine. For dessert, ice cream sundaes. Who says you have to go out to eat well? With a little advance planning, we would have a feast, on our own terms, on our own schedule.
The Big Day
Gary walked in the door just before sunset, with a bouquet of yellow roses behind his back and a big smile on his face. Two sets of Valentine's Day flowers?!? That certainly got the evening off to a good start. By the time we made our way onto the Spring Mountain trail, though, the sun was history. Things went well, if you count slipping all over the partially snow-covered trail in the dim moonlight without breaking a leg (or wrist, or ankle) going well. Hoofing it up there was one thing—you aim for the aura from the lights and the sound of the snow-making machines at the ski area. The way down, however, was something else.
I didn't begin to worry until about the third time Gary said, "Hey, this isn't the right trail!" prompting us to turn around and retrace our steps. The path to the top is less than a mile long; how hard can this be? You would be surprised. Things look very different in the pale moonlight than they do under the noonday sun. I gave myself positive messages, like, if I hurt myself doing this, I'm going to sue him. The moonlight through the clouds lent an eerie glow to the landscape, and our bodies cast shadows on the ground before us. I wondered what in the hell I was doing outside at that hour, never mind walking around in the woods on Spring Mountain.
What's more, we had planned to get back in time to watch a round of Jeopardy on TV. Just that morning, the front page of the Philadelphia Inquirer had dubbed that evening's episode, "Man vs. Machine." The game show's (all time) top two contenders were to battle an IBM computer! I had been catching an occasional episode at the gym and reminiscing about the early years of our marriage, when we would rush home, fix dinner, and take it into the living room just in time to watch Jeopardy. Then, we'd both jump up at the end of the show to shut off the TV before the contestants of the following game show could shout, "Wheel! Of! Fortune!" How geeky of me to suggest this V-Day Jeopardy reunion, I thought.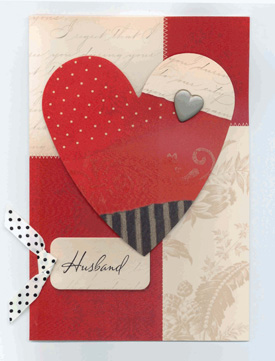 Well, with our wrong turns on the dimly lit trail and the general slog we had to make through the wet snow, we stamped our feet on the mat by the front door and turned on the TV just in time to hear Alex Trebec thanking everyone for participating. Oh, well! They did look intelligent all standing there together (especially "Watson," the computer). Maybe we can catch it on "You Tube."
Open the sauvignon blanc. Pull the shrimp from the fridge and steal a few. Steaks on the grill, potatoes in the microwave, asparagus lightly sautéed. Don't forget the mushrooms! A cute table set for Valentine's Day, right in our own home: pink wine glasses, a little pink candle, and of course, my beautiful pink calla lilies. I even found a couple of pink floral placemats to tie it all together. Who could ask for more? I lumbered around in my hiking pants and now-ratty old MIT sweatshirt, my plantar fasciitis acting up after our invigorating walk. But, Amie had given me a set of Brighton heart earrings with matching necklace for a special occasion one year, and I've worn them every Valentine's Day since. They looked lovely with my hiking garb. And, when I put on the Glenn Miller CD, we even did a quick jitterbug across the kitchen floor to "In the Mood" (another throw-back to Amie's wedding. Such richness our children bring to our lives!).
Dinner was a lovely affair—the steaks were amazing! I couldn't remember the last time Gary and I had had such a nice meal together. And, at home, to boot! I was having this out-of-body experience. I had packed the CD player with a series of light jazz collections, which added to the ambience. And, of course, we worked a crossword puzzle, as we always love to do but had been deprived of lately being that we weren't eating together at all anymore.
We were there lounging at the dinner table and I was telling Gary all about my day/week/month, when I noticed his eyelids drooping. He was fighting it, but I knew who would win.
Oh, no you don't! I'm not done with you yet! Gary had had so little wine, but then in the last week, he had also had so little sleep. Rolling in for dinner at 8:00 p.m. at the beginning of the season had turned into a dinner of Wawa hoagies and rolling in around 1:00 a.m., after I had conked out for the night. (And, his homecoming was at daybreak the last few nights.) The only time we saw each other was while getting ready for work each morning. There wasn't much time to catch up on everything.
Dessert. I need to get the dessert! Hey, you, stay awake! You're going to love this! I went right to work on Gary's sundae, scooping the vanilla ice cream, then ladling some of the frozen strawberries over it. All right, so they were a little mushy. It's February, you know, not June; the only fresh strawberries around had been trucked up from Chile. A very light drizzle of chocolate and caramel sauces finished things off. I set the cute little pink pedestal dish down in front of Gary. Voilá! His eyes lit up. He'll make it through dessert, I thought.
Sweet Dreams
I stood up and began clearing the table. Gary began to nod once again while struggling to finish the crossword puzzle. Well, dinner was finished and so was dessert. Two out of three ain't bad. Hey, how about you go up and brush your teeth? I said. I looked at my watch. It was 9:45. Gary headed for the stairs, with me not far behind him. By 10:00 p.m., he was in bed, and by 10:05, fast asleep. I read for a while, not used to such an early night. Poor guy! I looked over at him there sleeping. In the words of Charlie Brown's sister Sally, he really (still) is just the cutest thing. So, it was Valentine's Day, and I had my honey home with me. We had a nice hike and enjoyed a yummy meal, and now visions of robots danced in his head. As for me, I was content with my nuts-and-bolts kind of Valentine's Day.
---
Robin Bonner is Editor of Empty Nest. For more about Robin, see About Us.