SPORTS
Oh, Baby! It's a Magical Night:
Wednesday Night Racing
by Robin C. Bonner
The Invitation
It's been a rough week . . . but then there in our in-boxes lands the siren call:
Oh, Baby! . . . It's a Magical Night
WEDNESDAY at Lake Nockamixon
Where—
- We measure health care . . . one hot dog at a time.
- "DFL" is the new first.
- "Starboard" is just a location for the cooler.
- The SIs are strangely similar to the government warning found on adult beverages.
This week, we're gonna put our best paw forward for WHDDL (Wednesday Hot Dog Day at the Lake), to show the sailing community what Wednesday Night Beer Cans are all about. I have it on good authority that there will be typical Lake Nockamixon Wednesday night wind (it blows . . . and sometimes it's even windy), but, even better, there will be low humidity and some sun.
Make it a point: Bring your super-soaker, sunscreen, a bad book, whatever. Just show up at 5:00 p.m. to race/drift. Then, Dawgs 'til Dawn or . . . until the old people get tired.
Special events include awarding prizes for:
- The best versions of "There Once Was a Lady from Nantucket"
- Best Wednesday night costume (pirates and wenches, anyone?)
- Most egregious breach of the RRs
Laurine's bringing salad, Diane's whipping up some pasta, and Mrs. Bonner promises some of the stuff she's famous for. The back of my Honda is always a good place to start.
Show up. Bring a friend.
GB
NSC Wednesday Sailing Advocator

The invite screams, a blur of fonts and color, laid out like a ransom note. And, it doesn't go unheeded. For we, the members of the Nockamixon Sail Club—a good many of us empty-nesters—Wednesday is the literal watershed of our week—an evening on the lake (think warm breeze and setting sun), with aprés sail par-tay. After that, Thursday and Friday just kinda rush on downhill toward the weekend—no problem. How can a sailor resist? I can't. From June through September, my Wednesday Outlook calendar shows a reoccurring meeting at 4:00 p.m.
The Club
Rear Commodore of Racing Craig Tourtellott calls the races and records the scores. George Balas, unofficial master of ceremonies (and purveyor of hot dogs) cheers on the captains and mateys. (And we all know he's behind those cryptic invitations!) We sailors come from far and wide: Bucks, Delaware, and Montgomery counties (PA).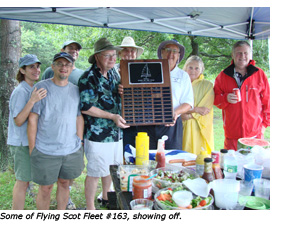 Philadelphia, the Allentown area, New Jersey. Some weeks there are as many as 15 boats, maybe 20. We're realtors, engineers, editors, truck drivers, judges, teachers, TV producers, landscapers, accountants, environmentalists, and (glory be!) retirees. We live to sail and sail to live. And, we get our mid-week fix on Wednesday nights.
We NSC sailors like to have our fun, but we are no lightweights. Recently, the Flying Scot Sailing Association named Nockamixon's Flying Scot Fleet #163 their 2009 Fleet of the Year. In addition, NSC's Craig Smith serves as national Thistle Class Association president. No small stuff. The club, around since 1974, boasts three one-design racing fleets: Flying Scots, Thistles, and Impulses. The Portsmouth Fleet covers everyone else: a few Lightnings, Santanas, J-22s, MC Scows, Lido 14s, Precisions, and sailing canoes—you name it. We even have a group of cruising fleets! In July, more than 170 members and friends came out for the Club's annual Up the Lake race and pig roast. Anything to get us all on or around the water.
One Wednesday
August 12 was no exception to NSC's usual Wednesday splendor on the lake—an amazing night.
Everything was perfect. Um, except for the weather. No gentle breezes and setting sun this week: Instead, heavy cloud cover, downpours (talk about super-soakers!), and wet winds up to 15 or 20. But, lo! Who needs sun? Such dedication: Twenty hearty souls still turned out.
A lot of hot air, just none on the water. It didn't take a race committee to decide the best course: do a TTW [sailing jargon for a course: triangle, triangle, windward] to the picnic grove, get under some tents, and cook those dawgs! Sailors jockeyed for position, but not for the start line—for the cooler and picnic table. Hot dogs. Salad. Corn on the cob. Mrs. B's "special" lemonade and other inspiring beverages. Who says only the kids know how to party? No sailor was left behind. Great food and drink, and great conversation: A recent cruiser-sponsored club trip to the Chesapeake recapped; the Flying Scot Association award flaunted. Anyone for another cruise in September?
Wednesday nights on the lake are pure delight, rain or shine.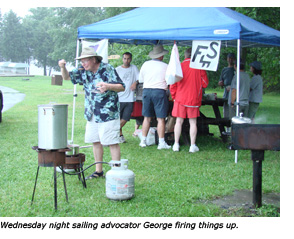 If you don't believe us, come out and see for yourself. You'll find us at Lake Nockamixon State Park, near Quakertown, PA. Or start up Wednesday night racing at your own club. Or start up your own club. In any case, just do it. If you're a sailor (and even if you're not), I promise you, it will be the best part of your work week. In fact, they're calling Wednesday the new Saturday. (And, we surely need a new one, since many of us end up working on Saturdays anyway.) Talk about a stimulus package!
LINKS:
Nockamixon Sail Club
Re: Wednesday Sailing, I dare you to Google it. There are too many to bother listing any here.
---
Robin C. Bonner is editor of Empty Nest. For more about Robin, see About Us