PERSPECTIVES
Fledglings
by Linda C. Wisniewski
Note: "Fledglings" was first printed in The Rose and Thorn e-zine.
The nest is a mess. Bits of feather stick to twigs which she has bent into a perfect circle, round and deep. Twig upon twig, she labored, carefully carrying one at a time into the broken lamppost,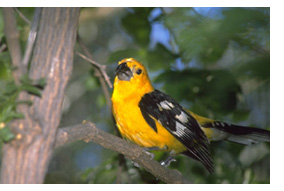 pushing them through the opening made by the cracked glass. Now the nest is empty.
Upstairs inside the house, another nest lies abandoned. Empty gum wrappers and crumpled sales receipts litter the floor. The box spring stands empty of its mattress. Cardboard boxes, rolls of packing tape lie on a desk, a chair, the floor. A phone, unplugged, lies on its side.
It was late in June when we noticed the twigs sticking out of the broken lamppost at the end of our walk. When we took a closer look we discovered a bird's nest inside. It was too late in the season for a bird to lay eggs, we thought, and our friends agreed, except for the neighbor who had just moved from New York City. He took one look at the nest and confidently said, "If she built it, it'll be used." I wondered if, like him, all New Yorkers hate to see an apartment go unoccupied.
We told more friends about our discovery. They laughed because we were now unable to repair the broken glass and unwilling to even turn on the light in our lamppost for fear of harming any occupants. Our friends insisted it was too late. If there were no eggs by now, there would be none.
We prepared the next day to take down the nest. Steve got out the aluminum stepladder and set it up beside the lamppost. I held my breath as he climbed up and used his screwdriver to remove the cover.
"Holy cow," he softly exclaimed. "There are five eggs in here."
"Let me look," I whispered. Climbing the ladder to the top, I peered inside: five tiny light blue speckled eggs lay deep in the center of the circled twigs.
Back into the garage went the ladder. We had acquired a huge new responsibility. Careful not to turn on the lamp, we walked quietly in the darkness beneath it and kept the cat indoors.
This whole operation felt strangely familiar to me. When I walked past the nest, I looked up at the window of my son's room and remembered the years when I had labored, like that other mother, to make a cozy, safe nest. I hung curtains, bought bed linens, a bookcase, a lamp. I cleaned his room, nagged him to clean it and tried to teach him to clean it. I bought him books on drawing, writing and collecting comics, trying to feed his soul. When the rocky times came, I tried to help him survive. I encouraged him to invite friends home, gave them parties and bought cases of soda and bags of chips. What kind: Coke or Pepsi, cans or bottles? Ruffles or ridges? Plain or barbecue? Sometimes, I know, I tried too hard.
He started smoking cigarettes. I told him how it felt, having cared for and protected his little body, to watch him voluntarily inhaling poisonous gases. "What a relief it is, Mom, to be able to talk to you about this," he said. I wondered if I had done any good at all.
I listened when he talked about lost jobs, lost friends, failing grades, and tried to offer answers. I paid for college, for room, board and tuition, a fraternity jacket and ROTC boots.
After two years, he left college and came home to the nest. He worked and took classes, while I tried to be supportive. Eventually, he was at home hardly at all and when he was, he chafed at my questions. Anger rose close to the surface whenever we met. At last, I told him it was time for him to leave. He found a place of his own, with a friend.
In the weeks after he left, the lamppost nest outside was all but forgotten. One afternoon, as I was pulling weeds in the garden, a small bird flew overhead. I saw her go into the lamppost with something in her mouth, too small for me to identify, but I knew it had to be food. The nest was finished, the eggs had been laid, and now they must surely have hatched. I wanted to get out the ladder again for a look, but was afraid I might scare the mother bird away.
Steve heard chirping one morning as he returned from the road with our newspaper. I heard it, too, coming from the lamp. We brought out the ladder again, quietly and carefully, and reverently removed the cover. Five little open mouths moved within five tiny beaks, on five tiny heads, eyes still closed. We quickly gave them back their privacy, kept the cat indoors, and told everyone who would listen.
We felt like new parents again. We had even more responsibility. These little birds were hatched, hungry and helpless. I put out some thistle and a birdbath in the garden, and a pan of water near the nest. We recognized the mother, a tiny finch who flew in and out of the small opening in the broken glass. Soon I was able to see a small head peering out of the opening after she had left. Yes! I thought. We did it!
A few days later, standing at my window, I spotted a very small bird, hopping and flying through the perennial garden below. Surely this must be one of the fledgling finches! They had survived the hottest, driest summer on record, with our help.
They are gone now, every last one. Last night we climbed the ladder again, and lifted their roof. The nest was empty, dirty and abandoned. It looked lonely there, so I took it down and placed it on the wide windowsill on our back porch. It is August and the "too late" babies are gone. So is their mother. And so is my son from his upstairs nest.
Sometimes when I pass his room, I stop to look inside. A few of his things remain, tossed aside in his leaving, but it looks as empty and abandoned as the finches' nest. It also looks to me unfinished. I don't know how he will turn out or if he will reach his full potential. I don't know if I have done enough nurturing, protecting and teaching. I don't even know if I pushed him out of the nest before he was ready to fly.
I often look at the empty nest on the windowsill, abandoned by the mother finch because she trusted, as mother birds do, that her fledglings would fly. She won't blame herself if they fall or get eaten by the cat. Nor will she turn up to preen proudly when they fly to the highest branch.
Today I moved the cardboard boxes and empty box spring to the attic, but I'm keeping the finch feeder and the birdbath filled. Just in case.
---
Linda C.Wisniewski tends her empty nest in Bucks County, PA, with her husband, potter and sculptor Steve Wisniewski. She teaches memoir workshops and speaks to groups on the healing power of writing. Her memoir, Off Kilter, was published in 2008 by Pearlsong Press. Visit her at www.lindawis.com.