MONEY
Credit Cards for Young Adults:
Blessing or Curse?
by Amie A. Bonner
Credit Newbie
When I went off to college, I did so without ever having owned a credit card. I hadn't been at school long, though, before I signed up for a Visa card, with my parents as co-signers. I found the deal at a "Student Advantage" fair in Boston.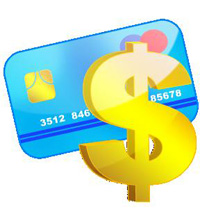 The plan was to use my new credit card for essentials—food, toiletries, and so on—and for the bill to arrive home, for my parents to pay. Only a few weeks later, I was offered a Citibank MasterCard that I could obtain on my own, without a co-signer. I eagerly applied! Shortly after that, I visited a student-focused information fair on campus, where Discover Card was offering free gym bags to anyone who applied for a credit card that day. What new college student can't use an extra gym bag (even if she isn't taking a physical education course that semester)?
So, within only two months of my arrival on campus, I already had three credit cards and $1,500 worth of credit. That was in 2000. And, since then, credit card companies have only increased the fervor with which they pursue college students. Consequently, many students have fallen victim to the siren call of the credit card.
Beyond Their Means
According to a Sallie Mae study of undergraduate credit card use in 2008, 84% of college students have at least one credit card. On average, though, students today have more than four cards each. This isn't so bad, except that they are, on average, carrying $3,173 in debt. Further, the debt increases as the school years progress, with seniors carrying more than four times the debt that freshmen carry, even considering that almost five times as many freshmen are carrying debt today than were in 2004.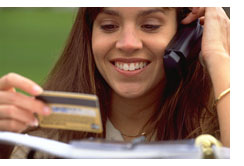 The real clincher is that only 18% of college student cardholders pay off their balance each month, which means that 82% of college students are using credit cards to live beyond their means.
On the basis of these numbers, it's easy to understand why earlier this year, Congress passed the Fair Credit Reporting Act, which requires that those under 21 years old provide proof of their ability to pay for purchases or obtain a co-signer in order to apply for a credit card. The intent is that the co-signer requirement will force students to talk to their parents about the responsibilities of credit and not just fall into the misguided use of such cards as "free money."
The Sallie Mae study showed that those students who had never discussed credit cards with their parents were more likely to use them without heed. In addition, the need to prove that they can pay will help students realize that purchases made on credit cards must be paid for, just as regular cash purchases would be. The college student who signs up for a credit card on these terms will, it is hoped, join a more debt-conscious generation of Americans.
Benefits of Credit
Given all this negative hype, it's easy to believe that college students should stay away from credit cards.
However, as long as young people have been properly educated, owning a card can be very beneficial to them, for several reasons:
1. A credit card removes the danger of carrying large quantities of cash.
2. It provides purchase protection if the card is ever stolen or erroneous charges are made.
3. It allows easy tracking of purchases and expenditures.
4. Most important (especially for college students) is that the prudent use of credit cards builds credit history.
The earlier a student can own a credit card, the sooner he or she can begin to establish a credit history. Good credit history can make a big difference to the young adult who has graduated and is now attempting to rent an apartment or buy a car. Graduates with no credit history may find themselves unable to sign a lease or obtain a loan without a co-signer, which could prevent them from "getting out on their own."
As with so many things, the relative virtue or vice of a credit card depends largely on the hands into which it falls. A knowledgeable user can make a credit card work to his or her advantage, whereas an ignorant consumer may soon be at the mercy of the banks. The best situation for a student (or anyone) is to get a credit card, use it minimally, and pay the balance each month.
But Lead Us Not…
Of course, if a student does not think he or she can withstand the temptation of making
extravagant purchases, then the penalties of ownership far outweigh the benefits. In such a case, sidestepping the lure and perceived freedom of having a credit card may be the best course of action. Overall, though, the best strategy is to know the principles and potential pitfalls of credit card use. Parents can play a vital role in helping students gain this understanding—and thus save them from an otherwise difficult life lesson.
LINKS
Law May Force Parents, Children to Talk About Credit Cards
Best Student Credit Cards and Tips for Smart Credit Use
College Student Credit Cards
Colleges Profit as Banks Market Credit Cards to Students

---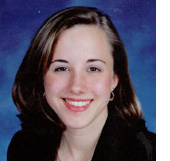 Amie Bonner is an aeronautical engineer with Lockheed Martin, in Palmdale, CA. When she's not designing airplanes, Amie is watching her credit, calculating her investments, and planning for retirement. She had no problem handling credit cards in college (or afterward). She and her husband Todd Wesley, and their two cats Fiona and Trillian, live in the desert in Southern California. Amie last wrote for Empty Nest about Retirement Planning, in summer 2007.