Teaching Copyediting? In Delhi? In English?
by Carol Field
An Offer I Couldn't Refuse
My employer, Aptara Inc., provides editorial and production services—including copy editing—for major publishers all over the world. Much of the work we do involves science and medical editing. I've held positions in this field, with various publishers and services, for more than 30 years.
In recent years, more and more of Aptara's customers have begun to request off-shore (and thus lower-priced) copy editing, but they were rightly concerned that copy editors who are non-native English speakers might not be prepared to deal with the nuances of American English. I was asked to work and live in India for almost a year. My assignment? To figure out what the Delhi copyediting team needed to know and to determine the best way to teach it to them. Because my nest was empty, and my husband recently retired, how could I pass up this opportunity?
I couldn't.
George and I arrived in Delhi on November 29, 2008. My first impression was that the city was dry, dusty, and very chaotic! Always a nervous auto passenger here in the United States, I had heard horror stories about the traffic from co-workers in India.
I tried to prepare myself by watching videos on YouTube, but it was still a shock to actually experience it first-hand. Apparently, the rules of right-of-way are based solely on the size of the vehicle: first buses, then trucks, then cars, then auto-rickshaws, then bicycle rickshaws, then bicycles, and last the pedestrians. Oh, I forgot to mention that cows have the very first right of way. We were pretty much in deep culture shock for the first month. I eventually found that the best use of my time while I was being driven to and from work each day by our intrepid driver, Modh, was to just read the newspaper and make phone calls. Or to shut my eyes.
Moving In
At Aptara, I found that everyone was very eager to help us get settled. We stayed at the company's guest house for the first month and were very well taken care of by Darshan, who oversaw everything to perfection and is one of the most pleasant people you'll ever meet. Others at Aptara helped us find housing, open bank accounts (not easy to do in India), figure out the word for flour (atta or maida; I never did find out how they were different),
buy movie tickets (also not easy—seating is preassigned and you can't use U.S. credit cards to make the reservation). By the way, we saw only two movies—Slumdog Millionaire and Star Wars. Street scenes in Delhi had already prepared us for Slumdog, so we were not as shocked as some of my friends in the United States were when they saw the film.
While we stayed in the guesthouse, we began an apartment search and found (on Craigslist!) a great three-bedroom apartment, with a rooftop terrace, in Defence Colony, a fairly quiet residential area within walking distance of a market. We had tried to find a furnished apartment, but we didn't like any that we saw. Everyone thought we were crazy to furnish an apartment for only 10 months, but we rented a few pieces of furniture, bought the rest, and then sold it on Craigslist before we left. The commute to Aptara's offices could range from ½ hour to 2 hours, depending on traffic.
One of the best things about India is that you can have practically anything made from scratch, to your specifications—and it's actually affordable! George set to work sketching a coffee table, bookshelves, a homemade "sofa," and a shelter to provide shade on the roof, where I planned to grow herbs and lettuce. It's easy to find people to make almost anything within a day or two.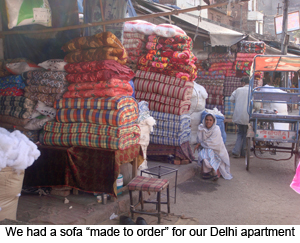 For our "sofa," we went to a little stall in a market near us and chose some fabrics for the mattresses. When we asked when we could pick them up, the proprietor said, "This afternoon?" Sure. We chose the fabric, the cotton stuffing, and the thickness. They were all stitched by hand and stuffed right there, within hours of ordering them. I loved that.
Getting to Work
Once we got settled, I focused my attention on the copy editors. At first, I needed to determine the precise skill level of each copy editor, so I conducted classroom sessions on topics such as the use of definite and indefinite articles (the, a, an, some). Hindi does not use articles, so this is tough one. The classroom sessions were followed by testing. I kept the original tests and gave them again at the end of the training, to measure everyone's progress. (For one client, the editors moved from B– to A!) After a few months of classroom training, we began one-on-one sessions, which involved reading, marking up, and reviewing each edited article or book chapter with the copy editor.
Eventually, we reached the point where the copy editors could just highlight their questions, and we no longer needed to do a word-by-word review of their work.
There were some difficulties. As with other languages, understanding English is very context-dependent. The word wound can mean either an injury or the past tense of wind. The word pulses means "lentils" in India, not the rate of your heartbeat. Sometimes, when explaining the meaning of an English word, it is not always possible to come up with an equivalent that can be understood by an Indian audience. The same is true when attempting to define Indian terms for an English-speaking audience: Occasionally, a comparable word just does not exist. This makes the teaching difficult.
My friend and colleague Meenakshi told me a story about her 4-year-old nephew who lives and attends school in Salt Lake City, UT (USA). He took his visiting grandmother, resplendent in her beautiful silk sari, to school one day for show-and-tell. He explained to the class that one thing he enjoys doing with his grandmother is making rotis. The teacher said "What are rotis?" He replied, "They're like chappati." The teacher said, "What's chappati?" He then said, "They're sort of like parantha." He could have said Indian flatbreads, but who in India calls them that?
Culture Shock
One day while teaching class, I was referring to an article about choosing the right infant car seat. Should it be front-facing, back-facing, or just a booster seat? In India, it's very common to see whole families of four or five traveling on a motorcycle. The father will be driving—and by law wearing a helmet and maybe even a leather jacket.
One older child might be in front of him, and one or two little children between him and their mother, on the back—none of them using any safety gear. And the mother usually rides sidesaddle because she's wearing a sari.
When I explained to my class that the United States has laws about using child car seats and that you could get fined for not following these laws, one of the copy editors said, "Well, how do you use car seats on motorcycles?" Makes me wonder how far a family of four can travel down I-95 between Philadelphia and Baltimore by motorcycle before being pulled over.
George spent most of his days taking Hindi lessons and getting into all kinds of trouble in Delhi. One day, he lost his hat trying to escape from an auto-rickshaw driver who insisted on taking him to tourist traps who sell overpriced rugs and stuff and not to the Chandi Chowk market, as George had requested. How he replaced his hat is a story for another day!
R & R
Most people in Delhi work 6 days a week and a 50-hour week (and there's no such thing as payment for overtime). So, when we did have a two-day weekend,
George and I would go check in at the Neemrana Fort Palace Hotel, two hours away from Delhi, just inside Rajhastan. That was my favorite place to be, something all of our 25-something visitors from the United States (which included our children) will attest to. Every time we had company, I'd suggest a trip to Neemrana. The fort was originally built in the 14th century into the side of a large hill. The rooms are on about 12 different levels and are all very different. Some are round, some are tiny, and some are palatial. We stayed in a different room every time we went. The nicest room we had cost about $90 a night and was really huge.
While in India, we didn't do as much traveling as we would have liked, but we did get to Jaipur, Agra, and Rishikesh (best known as the location of the Ashram where the Beatles studied meditation and yoga with their guru).
Ending Too Soon
Many people ask if I would go back. My answer is yes, I think I would. It took so long to settle in at the office and figure out which editors knew what and who did the best job for which client that after being there for about 6 or 7 months, I felt as though I was just figuring it out. So, then, it felt a little premature to leave. Because of the tax laws, though, we needed to do so. We certainly did not want to pay taxes in both the United States and India, as would have been necessary if we'd stayed a full 12 months.
When the time came to leave, I also felt that after more than 10 months, I'd finally learned a bit about how to live in Delhi. When we first moved into our apartment there, we thought it would be fun to have a tandoori oven.. We looked on the Internet and saw some models that cost about 1,000 (dollars, not rupees!), so we quickly forgot about that. Just a few weeks before we left, however, I discovered that cheap tandoori ovens are available in electrical appliance shops all over the city. If only we had known—all that delicious, freshly baked naan we could have had!
---
Carol Field is Director of Publishing Services for Aptara, a U.S. company that provides on-shore and off-shore editorial, production, and conversion services to many U.S. and U.K. publishers. Carol was based in Aptara's offices in New Delhi, India, from November 2008 until October 2009, just less than a year. At her departure, her nest had been empty for only a few months.